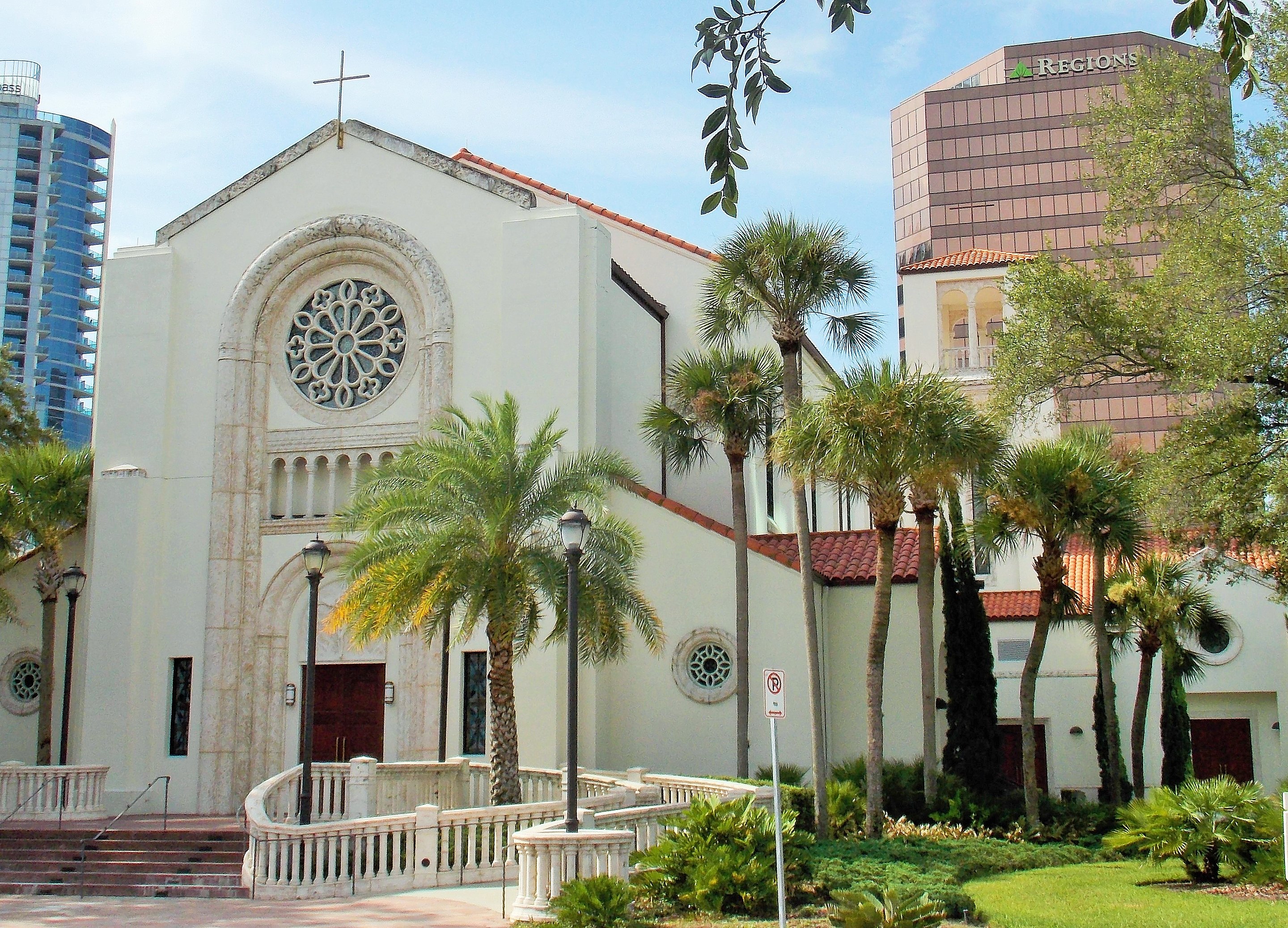 The Conference of Roman Catholic Cathedral Musicians (CRCCM) met at Saint James Cathedral in Orlando, Florida, for its 40th annual gathering.  Adam Brakel, Director of Music for the Diocese of Orlando and Saint James Cathedral, designed and directed the gathering with Elizabeth Jennings, Cathedral Associate Director of Music; and the CRCCM Steering Committee.
Monday, January 9
The conference began with Solemn Vespers at the Cathedral with the Reverend Nathanael Soliven, parochial vicar, presiding.  Organ music included Prière by César Franck and Prelude in E-Flat Major (Maestoso) from 12 Meditations, Op. 167, no. 5 by Josef Rheinberger.
Saint James Cathedral was originally built as a parish church in 1951 and dedicated on March 9, 1952.  The Cathedral of the Diocese of Orlando was previously the Cathedral of Saint Charles Borromeo, which was heavily damaged from a fire in 1976.  The irreparable damage necessitated the designation of a new Cathedral, and then-Bishop Thomas Grady petitioned the Vatican to permit the transfer of the diocesan cathedral to Saint James Church.  In 2009, an extensive restoration project was undertaken, which notably restored the original architectural features and façade stonework that were removed or covered in a prior renovation in the 1970s.  Saint James Cathedral is home to a 1985 Wicks Organ, Op. 6028a, which was enlarged in 2010 as part of the broader Cathedral restoration.  The current instrument is comprised of 63 ranks across 4 manuals and pedal.
After Vespers, the Cathedral hosted a welcome reception in the Parish Center.  Brian Luckner, Chair of the CRCCM Steering Committee, read the CRCCM Statement of Purpose, and conference participants introduced themselves.
Tuesday, January 10
On Tuesday morning, conference participants gathered for Morning Prayer at the Cathedral.  Organ music included Liebster Jesu, wir sind hier, BWV 731, by Johann Sebastian Bach, and Finale in d minor by Eric Thiman.
The conference continued with a workshop on Gregorian chant, given by Charles S. Thatcher, who served as Director of Music for the Diocese of Orlando and Saint James Cathedral from 2011-2017.  Thatcher described his early fascination with chant, which he traced back to his hearing of the phrase "novo cedat ritui" from the Holy Thursday hymn Pange lingua gloriosi.  He shared the musical formation he received in the novitiate with the Benedictine community of Saint Meinrad, where he studied music with renowned chant expert Fr. Columba Kelly, OSB.  It was there that he came to appreciate in particular the modal integrity of the Meinrad psalm tones.  Thatcher described rather nuanced musical interpretations he learned from Fr. Kelly, whom he quoted as having said, "the music is in the word."  He also discussed Gregorian semiology and referenced the St. Gall and Laon chant manuscripts published in the Graduale Triplex by the monks of Solesmes, France.  Thatcher encouraged his audience to consult the manuscripts for musical interpretation, suggesting that if it takes longer to draw the neum, it is reasonable to believe the note is sung longer.  He also discussed the musical phrasing that can be interpreted from the textual accents, which are indicative of points of transition between arsis and thesis.
Originally from Illinois, Charles S. Thatcher received the Bachelor of Music degree in Organ Performance from Illinois Wesleyan University.  He pursued further study at the Musikhochschule in Cologne, Germany, as well as the Saint Meinrad School of Theology in Indiana.
Following the chant workshop, conference participants found lunch on their own, after which they gathered for the first of two business meetings.
The remaining sessions of the day were held at the Basilica of the National Shrine of Mary, Queen of the Universe, where the itinerary included a guided tour, a choral concert given by the Basilica Choir, dinner, and an organ concert given by Adam Brakel.
The Basilica Choir performed a program of a cappella music, and repertoire consisted of Be Thou My Vision, Traditional Irish (arr. Marshall Webb); Hodie Christus natus est by Giovanni Pierluigi da Palestrina; Gabriel's Message, Traditional Basque (arr. Jonathan Rathbone); Indodana, Traditional isiXhosa (arr. Michael Barrett and Ralf Schitt); A Song of Ascents by Sean Christopher Stork; Riu, Riu, Chiu by Mateo Flecha the Elder; Hail Mary by William Picher; Sleigh Ride be Leroy Anderson (arr. Kevin Thomas Harris); My Soul's Been Anchored in the Lord, Traditional Spiritual (arr. Moses Hogan); and Hail, Holy Queen by Disney composer Derric Johnson.
The Basilica Choir is a professional ensemble under the direction of Basilica Director of Music Dr. William Picher, AAGO.
Tuesday evening, Adam Brakel performed a concert of modern music on the Basilica's Shoenstein organ.  Repertoire consisted of Variations de Concert, Op. 1 by Joseph Bonnet; Adagio in B Major from Sonata in E Minor by Herbert Boswell Nanney; A Night of Bald Mountain by Modest Mussorgsky (transcribed by Rebecca Rollett); Christmas by Gaston Dethier; Sweet Sixteenths (A Concert Rag for Organ) by William Albright; Ave Maris Stella, Op. 18, no. 8 by Marcel Dupré; and 6 Études by Jeanne Demmessieux.
Brakel is represented in North America exclusively by Phillip Truckenbrod Concert Artists, LLC.
The Basilica of the National Shrine of Mary, Queen of the Universe was built in 2009, serving the many tourists who visit nearby Orlando attractions.  It was designated a national shrine in 2004 and designated a minor basilica in 2009.  The Basilica is home to the IV/86 Shoenstein Organ, installed in 2019.
Wednesday, January 11
On Wednesday, morning, conference participants gathered for Morning Prayer in the Cathedral.  Organ repertoire included Monologue, Op. 162, no. 3, Andante Tranquillo by Josef Rheinberger and Prelude in E Minor ("The Cathedral"), BWV 533, by J. S. Bach.  After evening prayer, a Cathedral docent led participants on a guided tour of Saint James Cathedral.  Conference participants found lunch on their own.
The afternoon sessions began with a workshop on Spanish and Bilingual Music, given by Cathedral Associate Director of Music, Elizabeth Jennings.  She shared her repertoire lists from the Cathedral and encouraged her colleagues to maintain the same standards of liturgical polish regardless of the primary liturgical language.  For example, whereas many Spanish-language resources include a lyrics-only format for liturgical use, she recommended the proper engraving of all music intended for congregational singing.  In addition, Jennings also recommended avoiding clumsy musical rubrics that leave parishioners constantly scanning their hymnals to sing alternating English and Spanish stanzas.  By providing clean engravings of bi-lingual hymnody, the musical decisions can be more clearly presented, facilitating congregational singing for diverse assemblies.
The afternoon events continued with the Composers Reading Session, during which conference participants had the opportunity to sing through new compositions from their colleagues.  After the Composer's Reading Session, conference participants enjoyed dinner on their own.
Wednesday evening, the Saint James Cathedral Choir presented a concert of choral music in the Cathedral.  Repertoire consisted of Beautiful Savior, Traditional Silesian Folk Tune (arr. F. Melius Christiansen); Salve Regina by Franz Liszt; Cantata 142, Uns ist ein Kind geboren, by J. S. Bach; the Kyrie and Gloria from Mass in E-Flat for Double Choir, Op. 109, by Josef Rheinberger; Lead Me, Lord by Samuel Wesley (arr. Fred Bock); Locus iste by Anton Bruckner; and O magnum mysterium by Morten Lauridsen.  The choir is under the direction of Adam Brakel and accompanied by Elizabeth Jennings.
Thursday, January 12
On Thursday morning, conference participants gathered for Morning Prayer in the Cathedral.  Organ repertoire included Tierce en taille from Mass for the Convents by François Couperin and the Prelude in C Major ("Weimar"), BWV 545, by J. S. Bach.
Following Morning Prayer, Fr. Anthony Aarons, the recently-appointed rector of the Basilica of the National Shrine of Mary, Queen of the Universe, delivered an address on Liturgy.  Fr. Aarons focused on Pope Francis' June 2022 Apostolic Letter, Desiderio desideravi, on the liturgical formation of the People of God.  His talk was titled, "Sing A New Song to the Lord: Variations on a Theme," and he sought to provide practical applications of the principles laid out in Desiderio desideravi.
Conference participants found lunch on their own, after which the second of two CRCCM business meetings took place.
Later in the afternoon, prior to evening Mass, Adam Brakel performed a concert of early music as an extended prelude on the Cathedral's Wicks organ.  Repertoire included Dialogue sur les grands jeux by Nicolas de Grigny; Récit tierce en taille by Pierre de Mage; Toccata Settima by Michelangelo Rossi; Toccata in F Major, BuxWV 156, by Dieterich Buxtehude; Komm, Heilger Geist by Franz Tunder; Sonata No. 2 in C Minor, BWV 526, and Passacaglia and Fugue in C Minor, BWV 582, by J. S. Bach.
After the concert, conference participants attended an evening Mass in the Cathedral, with the Reverend Nathanael Soliven, celebrant, and the Reverend Vincent Ferrer Began, O.P., homilist.  Choral repertoire included the Create in Me a Clean Heart by Carl F. Mueller, O Sacred Feast by Healey Willan, and propers antiphons by Adam Brakel.  The organ postlude was Tönstucke III in A Minor, Op. 22, by Niels Wilhelm Gade.
The closing banquet of the conference was held at the Grand Bohemian Hotel in Orlando.  Well-deserved appreciation was extended to Adam Brakel, Elizabeth Jennings, the Cathedral's administrative staff, hospitality coordinators, and the CRCCM Steering Committee for organizing such a successful and enjoyable gathering.
The 2024 meeting of the CRCCM will take place in England, as part of the conference's customary European tour approximately every ten years.
—
Brian F. Gurley is Director of Music and Organist at Saint Paul Cathedral in Pittsburgh, Pennsylvania.